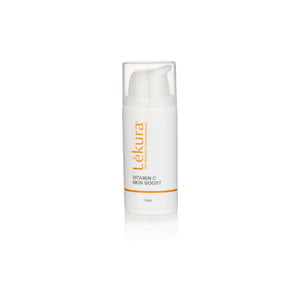 Lekura's Vitamin C SkinBoost has been developed to combat the visible signs of ageing including the formation of lines, wrinkles, sun damage and suppleness. 
Enriched with 5 fruits this serum contains a massive 20% concentration of Vitamin C.  Delivering a skin quenching boost of vitamins, phytonutrients and antioxidants where it's needed most.
BENEFITS Slow down the visible signs of ageing, reduce fine lines & wrinkles. Fades sun damage and evens skin tone and colour
IDEAL FOR Age prevention, mature, dry and dull skin
KEY INGREDIENTS 20% Vitamin C, kakadu plum & desert lime
🍃 100% Natural
🐰 Vegan & cruelty-free
🌏 Eco-friendly ingredients 
🤰 Pregnancy safe ( No retinol or synthetic Vitamin A )
🐨 Australian made & Owned 
Improved the colour of my skin
I've been using this serum for almost 2 years now and can noticeably see a difference in the colour and firmness of my skin, I started off using it a few times a week and now I used it every night and some mornings under the vitamin c moisturiser. Highly recommend giving this a good go if you have uneven skin and worried about wrinkles.