SPF 50 Natural Face Sunscreen

Vegan & Eco-friendly
Australian Skincare

Natural | Vegan | Eco Friendly
SPF 50 Natural Face Sunscreen
Vegan & Eco-friendly
Read More
Australian Skincare
Natural | Vegan | Eco Friendly
Mix and match products from different collections
The Lèkura® Promise
Our promise to you and what we care about;
Lèkura® was created to bring you a unique and innovative range of skin care that delivers visible results without compromise to your health, the environment or the animals we share it with.
We encompass sustainable and ecological practices in everything we do from carefully sourcing each ingredient through to final product testing.  When we select an ingredient, we check its origin, functionality, effectiveness and safety.  We ensure that each ingredient is naturally renewable and free-from any toxic or synthetic matter.  All of our ingredients are derived from fruits, plants, minerals, seeds and nuts.   We never use synthetic chemicals, or animal derivatives.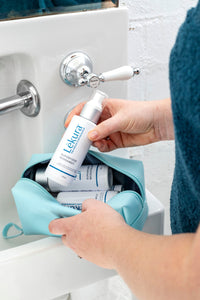 What you will find in our products:
Only natural ingredients comprised of;
Certified organic ingredients
Cosmeceutical grade ingredients
Bioactive ingredients
Phytonutrients
Biomimetic oils
An array of vitamins
Live probiotic cultures
Fruit enzymes
Herbal extracts
Essential oils
Natural preservatives 
What you won't find:
Petrol derived chemicals
Animal derived ingredients
Sulphates (SLS, SLES)
Mineral oils
Parabens
Synthetic fragrance
Propylene glycol
Synthetic fillers
Plastic beads
Dimethicone (Silicones)
PEG's
EDTA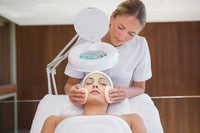 Professional Salon Range
We offer an exclusive range of professional products, equipment and signature treatments available to qualified skin therapists.  Training and ongoing support is provided to all Lekura salon partners. 
Enquire to become a salon stockist
Salon Professional Peels & Dermabrasions
The HydraPeel FX® Treatment
A revolutionary non-invasive skin rejuvenation treatment that requires no chemicals and no down time.
Using a vortex of concentrated solutions, the HydraPeel FX® treatment gently and effectively lifts and removes keratinised skin cells and impurities from the epidermal layers.
Adjustable vacuum suction aids in lymphatic drainage, increasing the speed of natural detoxification and aiding systemic toxin and pathogen removal.
Natural, active ingredients are infused into the skin throughout the treatment increasing efficacy and prolonged treatment results.
Request more information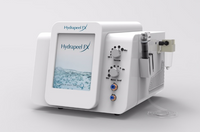 Results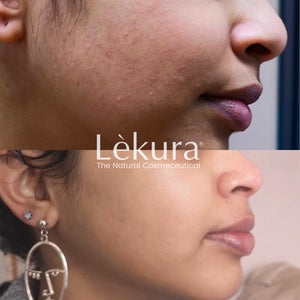 RESULTS AFTER 2 WEEKS
Results for dry & sensitive skin in just 2 weeks using the Superfood Skin Kit.
BEFORE photo shows lack of oil and water in the skin. Client experienced dermatitis flare ups, congestion and uncomfortable dryness.
AFTER photo taken 2 weeks into new skincare routine. Congestion,  dryness and sensitivity has cleared. Skin is soft, smooth & nourished.
BASIC HOME CARE
Superfood Skin Kit
OR Superfood Discovery Kit (Trial size)
*Individual results will vary
SUPERFOOD SKIN KIT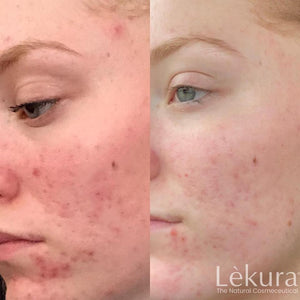 RESULTS AFTER 3 WEEKS
Results after 3 in-salon Lèkura purifying treatment facials, 5 days apart. ⠀
⠀⠀⠀⠀⠀⠀⠀⠀⠀⠀⠀
BEFORE photo shows pustules, inflammation and heavy congestion.

AFTER photo taken 3 weeks post initial treatment shows reduced inflammation, reduction of congestion and complete clearance of pustules.
BASIC HOME CARE
Purity Cleansing Gel
Skin Renewal-Beta-H Pads
Overnight Purity Gel
Probiotic Balance   
*Individual results will vary
Purity Skin Kit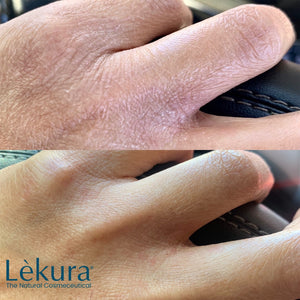 RESULTS AFTER 1 WEEK
Results for dry hands on the body in only 1 short week. Client has been using a cream with petrochemicals, artificial colours and fragrance that was causing dry itchy skin.

BEFORE Top image shows skin before Lèkura products changed to Lèkura.
AFTER Bottom image shows soft, nourished and hydrated skin.
HOME CARE
Superfood DermaOil
*Individual results will vary
Superfood dermaOil
Let customers speak for us