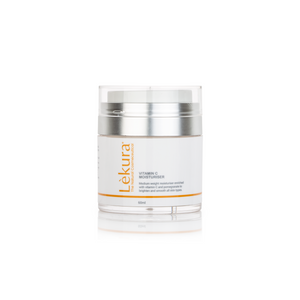 Lèkura's Vitamin C Moisturiser is a medium weight cream that has been developed to nourish and brighten the skin while reducing visible sun damage, fine lines and wrinkles.  Natural concentrations of Vitamin C focus on the visible layers of the skin, speeding up cell proliferation, brightening superficial pigments and evening skin texture.
BENEFITS Hydrates & plumps, evens skin colour and tone, reduces visible fine lines and wrinkles
IDEAL FOR Normal, dry, mature and sun damaged skins
KEY INGREDIENTS Vitamin C, pomegranate, jojoba Oil
🍃 100% Natural, free from artificial fragrance 

🐰 Vegan & cruelty-free
🌏 Eco-friendly Ingredients
🤰 Pregnancy safe
🐨 Australian made & owned 
✈️ Only $20 for International shipping
🚢 FREE shipping on order over $100 in Australia
www.instagram.com/lekura_australia/
www.facebook.com.lekuraofficial/
Love this product
My skin is soft, hydrated and glowing. Highly recommend this product!
SO HYDRATING!
This moisturiser keeps my skin hydrated all day long! I use it after applying the HydraMist and my skin has honestly never been clearer :) I also use it at my clinic and my clients always compliment on the smell and how "glowy" their skin is after I've used this to finish off their treatments. Highly recommend!!
My skin is GLOWING
I think i've been using this product for less than a month and I cannot believe the results so far! My face is so dewy and clear! I am loving these products! Thank you Lekura
A bit early to tell
I can't speak for the long term use but it's been about two weeks now and so far it's going great! Compared to my previous face cream of a different brand I actually can't believe how much this one really moisturises and nourishes my skin without making it oily! Hopefully all keeps going well from here.
Love this Moisturiser
This is a lovely Vitamin C Moisturiser with all natural ingredients and no nasties. Feels so hydrating on your face.