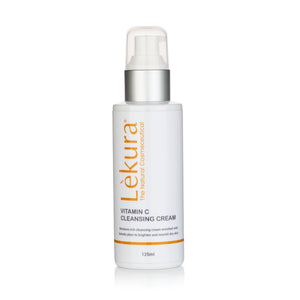 Lekura's Vitamin C Cleansing Cream is a luxurious and deeply nourishing cleanser enriched with sweet almond oil and mandarin extracts to gently remove daily pollutants from the skin.  Essential oils keep the skin soft while naturally derived vitamin C brightens sun damage and improves skin tone and texture.
BENEFITS Nourishes and brightens a dull and dry complexion.
IDEAL FOR Dry, mature and dull skin conditions.
KEY INGREDIENTS Vitamin C, sweet almond oil & mandarin.
🍃 100% Natural, free from sulphates and detergents 

🐰 Vegan & cruelty-free
🌏 Eco-friendly ingredients 
🤰 Pregnancy safe
🐨 Australian made & Owned 
✈️ Only $20 for International shipping
🚢 FREE shipping on order over $100 in Australia
Love it!
I have super sensitive skin that was very dry and dehydrated. I was recommended this cleanser and it has not disappointed. It leaves my skin feeling soft, smooth and moisturised and I've had no reactions to it at all. So happy with this product!
Such a beautiful soft cleanser
Vitamin c cleansing cream leaves your skin so soft and moisturised, can't recommend this cleanser enough for dry skin! So so good