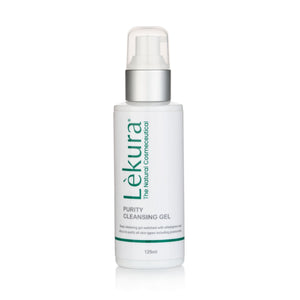 Lèkura's Purity Cleansing Gel has been developed to effectively remove pollutants, makeup, sunscreen and dirt from the skins surface without causing irritation or dryness.  This cleansing gel is suited to all skin types, especially skins prone to breakouts or excess oil.
Natural coconut and sugar extracts make this cleanser easy to use in the shower, simply add water to create a natural foaming action.
BENEFITS Removes makeup, safe for eyes and lash extensions, reduces congestion, excess oil and acne breakouts. wont strip your skin.
IDEAL FOR All skin types especially problematic. 
KEY INGREDIENTS Wheat-grass, green tea, lemon tea tree.
🍃 100% Natural
🐰 Vegan & cruelty-free
🌏 Eco-friendly ingredients
🤰 Pregnancy safe
🐨 Australian made & Owned 
✈️ Only $20 for International shipping
🚢 FREE shipping on order over $100 in Australia 
Cleanser that doesn't dry me out
I've tried them all! This cleanser is the best for deep cleaning my skin, I work in really dirty conditions and struggled previous to using the Lekura range with really dehydrated skin. Absolutely love this cleanser, it is the best I've used in 15+ years of looking after my skin. I also notice in comparison to others the price is so reasonable and affordable
LoveLoveLove
Hands down my favourite face cleanser ever, clears my skin of all makeup and dirt without a bunch of bad chemicals in it!
Hi Courtney,
Thank you for your wonderful review, its what we leave out that makes our cleanser so wounderful.
We have qualified skincare professionals online to answer any questions you may have via email or Instagram messenger www.instagram.com.au/lekura_australia
Removes make up really well
Brilliant face wash that gets all my make up off, recommend this for anyone who needs a wash that gets everything off and leaves your skin clear. Use over my eyelash extensions too
Great product
This cleanser is excellent, so easy to use. Skin always feels clean and hydrated.